Courses
Questions on how to register?
For Students
Earn either undergraduate or graduate level credit by taking a course instructed by the authors, Paul M. Bingham and Joanne Souza. We explore in detail the new theory of human uniqueness described in Death from a Distance and the Birth of a Humane Universe. We re-examine all the vast repertoire of knowledge from the evolutionary and social sciences from an exciting new perspective. See how the natural and social sciences can be united for the first time - while we learn to think critically together and explore the art of scientific investigation.
ONLINE Graduate Credit (CEB 553)
Spring, Summer, and Fall Semesters - Available World-Wide
- Approved content component of the Stony Brook University Biology MAT program.
- The Biology of Being Human (CEB553), 3-credit course, now available world-wide online. Course content given via broadcast quality video lectures.
- Can be taken by teachers for Master's and advancement credit with your institution's approval.
- See here for information and registration for the online graduate course (CEB 553).
Undergraduate Credit (BIO 358)
ON-LINE Course - Summer Semester
- All students (you do not have to be a Stony Brook University Student). See here under On-line Extended Session listing for information and to register for the summer extended session online course (BIO 358).
- Take advantage of the opportunity to take a Stony Brook University Upper Division Biology course during the summer term at state university pricing. Check with your institution and major for transfer approval.
LIVE LECTURE Spring Semester
- Stony Brook University Students only See SOLAR for information for class listings for the live lecture course (BIO 358).
Student Testimonials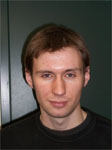 "At the beginning of this course I sat awaiting the inaugural address that would mark the beginning of yet another class that I needed for my major. I was amused by the promise that within just two months, we would look at the world quite differently. Nonetheless, I was intrigued and determined to do my best for the sake of the grade I would receive at the end. Afterwards, I could not care less what the actual grade was because I had the conscious awareness of having received something immensely more important than a letter on a transcript. I feel we've all been given something that is often denied in the course of education: a clear, pristine, and comprehensive scientific understanding of fundamentally human characteristics that map onto virtually every life experience. This really was unprecedented, and I now realize that when one hears the phrase "science at its best", it surely refers to the kind of understanding that "The Biology of Being Human" has imparted on us. The mechanics of the course were also terrific; content was delivered effectively and illustrated the major points with perfect elegance. I wonder if the structure of this course should not serve as a model for other lectures courses. Contrary to my expectations, the online version of the course did not hinder interaction, nor impede learning. The Internet turns out to be a really good medium, giving students a more efficient method of absorbing material and leaving them more time to aid in moving the frontiers of science forward. Suffice it to say, this course reminded me of why I began to love science in my childhood, despite the disenchantment through which I have staggered of late." - Andrei Assa

Show more...
For Faculty
For faculty wishing to teach the content in Death from a Distance and the Birth of a Humane Universe, please contact the authors.